Truth is, most people spend most of their time fusing about what is between walls like accessories rather than the wall. Yet, getting the right color for your walls might be the impact your room needs to move to the next level you crave for. There's a wide range to choose from, and it can easily get overwhelming. However, the idea is to come up with a home that you will love and be proud of. Therefore, the starting point can be from your favorite color, then use it to create a color scheme around it. This will not only give you an opportunity to flex your personality but also give your home authenticity.
Bold and vibrant colors or patterned wallpapers are outrageous to most yet, they definitely bring life to a room. It's understandable because such boldness is not for everyone if a neutral color is your reality, it doesn't have to be laid back. There are various ways you can work with a neutral color and get a trendy, yet relaxed room. Before shopping for paint, you might consider cleaning your home and narrowing down your options first. This can be done through simple research from websites or magazines. Finally, before committing to a particular paint, you may want to sample it first. This is to avoid wastage of resources. With that said, the following are paint color ideas for various areas of your home:
Front Door and Entryway
It is said you never get a second chance to make a first impression. Your door and entryway are the first things your guests see when they come by, hence it's important to make a clear statement and make it stand out. Get off on the right foot by choosing a bright, neutral and organized color that coincides with your theme. You can also go bold, but don't overdo it to prevent your house from looking cheap and out of place. You should also know that colors generate emotions. For instance, a brighter hue can offer energy and a playful vibe to the entry while darker hues are more somber and classic.
Living Room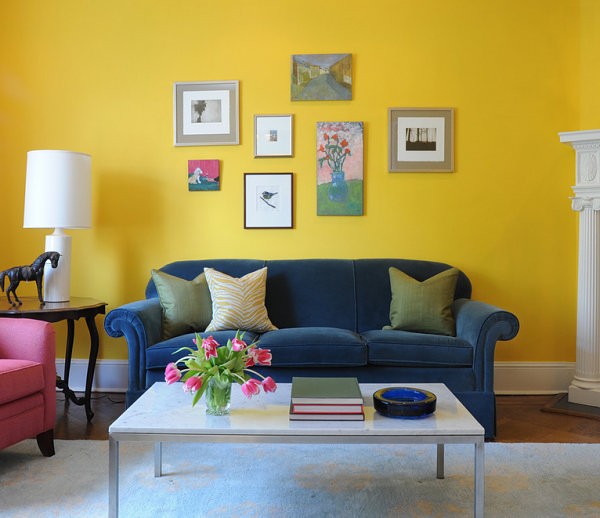 The paint you use in your living room depends on what you want it to communicate about your family or your personality. Your room may turn out official or casual, though you should know the overall look of your lounge depends on other factors too. For instance, the choice of your furniture, accessories or fabrics. When you decide to choose a bright color for your lounge walls, pair it with neutral living room colors. This gives your home energy without being too overwhelming about it. For example, aqua smoke gives out a beach-like aura, which is very refreshing. Sandy white is a common color and easy to work with during furnishing. Dark colored walls have their charm too. They are somber but very intimate;  Ebony, for example, is a great color. To soften the look, you can set off an eclectic art wall collection.
Dining Room
The paint you choose in your dining room will depend on the ambiance you want. You can blend it with the living room or go bold and let the room have its own personality. If you want a little bit of drama, you can use darker colors. For instance, chocolate brown, teal or lava grey gives a moody drama but remains very intimate and elegant. Complement it with brighter furniture or art, and you will get an exotic-looking interior space. If dark colors aren't your cup of tea, create an airy ambiance by using brighter colors. For example, buttercream yellow will give a room youthfulness and an inviting vibe due to its light hue.
Kitchen
The kitchen is the heart of any family home and brighter color work best in this surrounding. This is because light colors open up space and give your kitchen a sense of peace and organization. However, most people paint their kitchen white by playing it safe considering there are many pieces in your kitchen that need to coordinate after being painted. The cabinets, countertops, backsplashes and your wall will all need to be painted in colors that will create this organized color symphony. It's not as hard as it seems, if you want to break away from white, choose cool and serene colors. Example: green, blue and violet will create a calm and fresh atmosphere. A tip for the cabinets: consider using a brighter color on top and darker one at the bottom, or vice versa.
Bedroom
Your bedroom is very personal to you, therefore, consider what ambiance you want from your bedroom. Your furniture and accessories will also greatly help in creating the atmosphere you want. Considering this is the one place people can retreat to after a long day, most want it serene and relaxing. Earthy colors will never let you down. For example, brown, green and blue will pull off the look, but of course, stick to their darker versions. You can also keep things neutral; enabling you to have fun with your beddings, throw pillows or wardrooms. But in whatever color you choose, keep it muted because you want the room relaxed. Sexy and romantic, dark colors will also do it for you if that is what you are after.
Kid's Room
Colors influence our mood and behavior, therefore, it is essential for you to choose the right color your kid(s) room. Warm colors like cream will create an intimate and comfortable atmosphere, making the place inviting and cozy. However, the problem with using only or too much cool and warm colors is that it will work for the day but not night. A solution for this is getting an accent wall for your kid. This is a wall that is painted differently from other walls of the same room, and it gives your kid's room a classy and trendy look. Another solution is having some of your kid's accessories in a darker shade.
Color is a very powerful tool and can accentuate design details as well as direct the flow of design traffic in your home or home office. The listed tips will help you get the right colors for your home interiors.