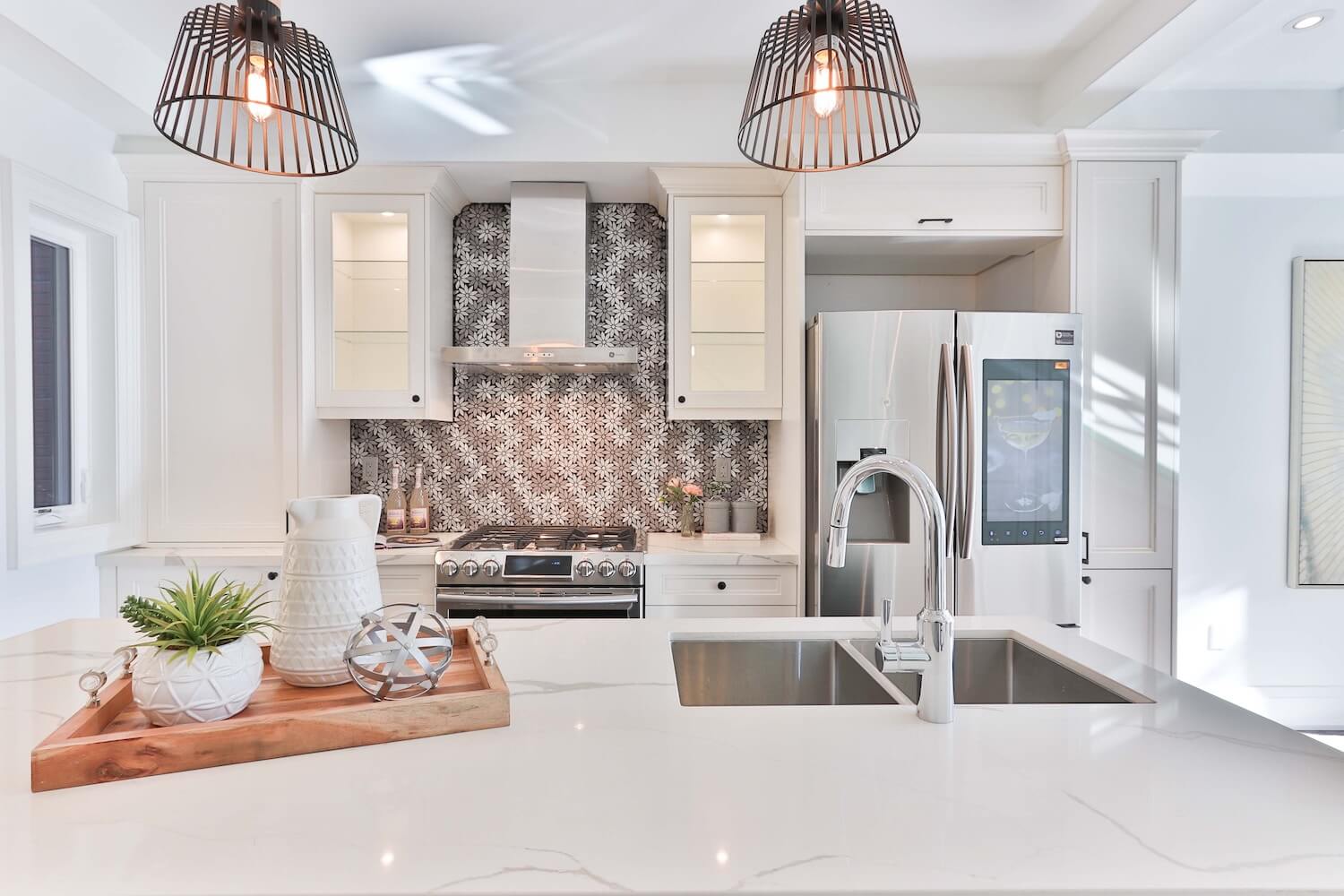 Compared to the rest of your kitchen's mess that can build up on a daily basis, it's pretty easy to overlook your unassuming kitchen cabinets. However, regular cleaning helps ensure that they maintain their beautiful appearance and avoids potential staining issues from arising. Generally speaking, you should at least wipe down your kitchen cabinets once a week and do a deep cleaning a couple of times a year. Fortunately, there are several very easy ways to clean up your kitchen cabinets so that they can regain their former glory. Here's a quick look at some of the most common options.
How to Clean Kitchen Cabinets
Wood Cabinets
Wood kitchen cabinets tend to be more sensitive to cleaners and scrubbing than their painted or melamine counterparts. This means that you'll want to test anything you're using in an inconspicuous area on the cabinet, such as the bottom or backside of a door or drawer, leaving the substance in place for several hours and checking for any issues. You'll also want to be very careful of how much pressure you're putting on the surface when scrubbing grease, dirt or other buildup away so that you don't accidentally scour or scratch the surface.
Grease-Cutting Detergent and Water
This solution works especially well if your cabinets are greasy or have a filmy appearance to them. Using a laundry or grease-cutting dish detergent, mix two parts warm water to one cup of detergent. Apply this solution to your kitchen cabinets with a soft cloth or sponge, scrubbing gently to avoid damaging the finish. Once you've finished cleaning the cabinets, rinse them with water so that any soap residue is removed and wipe dry to prevent water spots from forming.
Vinegar and Water
Vinegar also works well to cut grease, but also works if you have glass doors in your cabinets, making it a one-step process for cleaning all of your cabinets (hint: it also works great on stainless steel appliances). However, because wood is somewhat sensitive to acids, like vinegar, you'll want to dilute it one part vinegar to one part water in a spray bottle. Spray the cabinets down with the vinegar solution, wipe down with a dishcloth, sponge or microfiber cloth and then rinse with water to remove any residue that remains.
Baking Soda and Water
If you've really got food stuck onto your cabinets, making a paste of baking soda and water to scrub the food with may be your best bet to get it to go away. However, be careful that you're not scrubbing too hard and accidentally damaging your cabinets' finish. Use this option as a spot treatment for food that is stuck to your cabinets, then follow up with a detergent and water cleaning to finish up the process. A weak alkaline substance, baking soda works especially well on acidic foods such as tomato sauce.
Deep Cleaning Wood Cabinets
At least twice a year, you'll want to do a deep cleaning of your wood cabinets. This involves removing the items from inside, but if the task of moving your entire kitchen at once is a bit daunting, try one cabinet at a time. After the items are removed, vacuum any debris, then wipe down the shelves with a detergent and water solution, starting at the top shelf. Go on to wipe down the inside of the cabinets, then use a toothbrush to get into any detail areas on the cabinet door or drawer before wiping the entire door or drawer down.
This is a great time to add some moisture to your cabinets in the form of a dedicated cabinet cleaner, orange-based cleanser or tried-and-true diluted Murphy's Oil Soap, which does a great job of adding oils back to the wood in your cabinets that may have evaporated off due to your climate control system. This helps keep your cabinets looking fabulous year after year.
Painted Cabinets
All-Purpose Cleaner
On painted cabinets, in addition to the above options that work for wood cabinets, it's okay to use an all-purpose cleaner to get your basic cleaning done on a regular basis. If you used an oil-based paint to paint your cabinets, you can get a bit more rough with scrubbing the surface, but be aware that you can still scrub through the surface of the paint if you use an abrasive powder cleaner. Latex paint isn't quite as hardy, but will still often stand up better than fine wood finishes to a number of substances.
You'll still want to follow up by rinsing off the cleanser to prevent spots and films from forming on your cabinets, and should dry the cabinets to ensure you're avoiding getting water spots on your surfaces.  As with the above wood cabinets, make sure that you test any cleaner you're planning on using on a hidden area before attacking the surface of your cabinets, and be careful of scrubbing too hard and causing damage to your paint finish.
Deep Cleaning Painted Cabinets
Because painted cabinets hold up better to stronger cleaning solutions, you have a few more options available than you do with wood cabinets. Make sure that you empty the cabinets, working one at a time if needed, and then vacuum any debris out. As with regular cleaning, start by testing the cleaning product in an inconspicuous area for several hours before applying it to the visible areas of your cabinetry.
Provided that the cabinetry did well with the test, you can spray the cleaner directly onto the cabinet surfaces and then wipe them down with a soft cloth, sponge or dishcloth, or dip and wring the sponge or cloth into the cleanser you'll be using.  Wipe down the inside, shelves and the back of the doors before proceeding to the front. If you have hard-to-clean areas in your cabinetry, such as in the corners of raised panel doors or drawers, take the time to go over those areas with a toothbrush and the cleaner that you're using so that anything that has built up in those areas can be removed, then wash the face of the cabinet.
Your kitchen cabinets are a big investment in your home, and regular cleaning means that you're protecting the value of that investment while keeping your home looking fabulous. But what if you just don't have the time to get to it? Cleaning Exec's team of experienced, professional home cleaners and office cleaners are ready to help you make your home shine again. Please feel free to contact us today with any questions, for more details or to get a free estimate on our cleaning services.