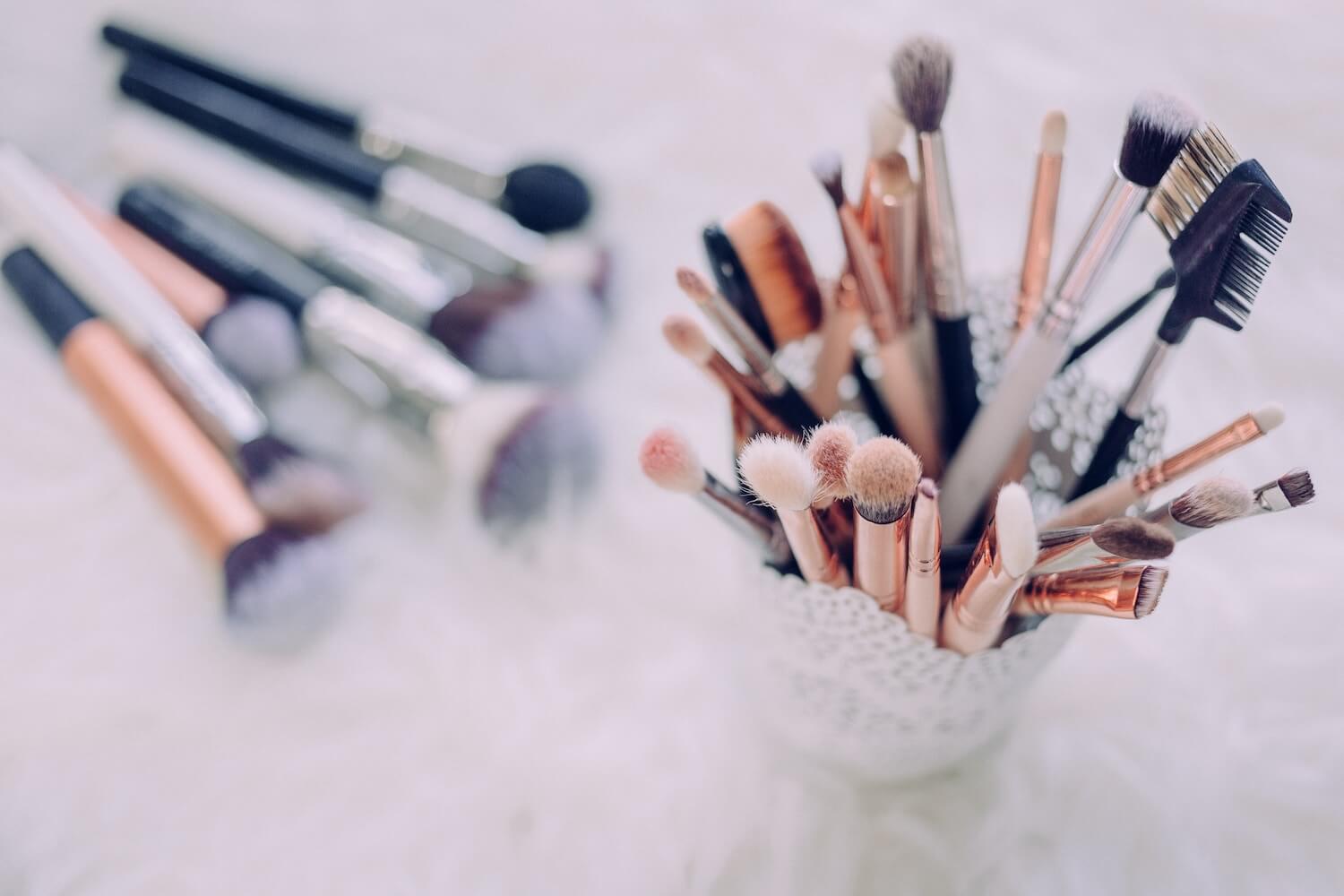 The most valued and treasured items among many are beauty products and accessories for both men and women. It is therefore very important to take care of them as they are sensitive and very easy to get damaged which can be costly. Lack of proper hygiene can cause the products to react with your skin, leaving you with acne in severe cases. Some of us may even assume that the products we use are the ones affecting us. Here are some tips to help you clean your makeup tools.
Once you are done with the day before you go to shower, make it a habit to clean the makeup off your face. Just get some cotton wool and dump it with warm water then use it to rub off your make up beginning with your eyeshadow. Remember to take off your artificial lashes before you start cleaning out your makeup. This will prevent any makeup from getting into your eyes or mouth as the shower runs on your face. The routine will also ensure that you clean your makeup tools after you finish washing off the makeup.
1. Cleaning Your Brushes
Makeup brushes are the most used tools for applying makeup. However, we rarely find time to clean them or even replace once the bristles become weak since we hardly notice. The best way is to come up with a weekly routine to clean them. Pick a day which you are less occupied like on a weekend and go through all your brushes. You can soak them in warm water and add a little vinegar just to make sure the stains are gotten rid of. It is also advisable that you use a single brush for every shade of foundation you are applying to prevent mixing the colors which in turn might come up with a foreign color on your face. Ensure that your brushes dry out laid down flat on the table or squeeze all the water out.
2. Lipsticks and Lip Liners
There is that greasy or rugged feeling you get after you apply the same lipstick for a long period of time. This is due to the continued application during the day without cleaning up your lips first before you re-apply them. A thick kind of smudgy layer will appear on your lipstick. The best way to clean this mess up is carefully scraping off the top layer every time you notice the smudge. For lipsticks that have a brush, simply replace the brush from time to time after cleaning it frequently for best results.
3. Nail Polish Brush
Do not leave your nail polish open for too long as it will dry up on the brush and mess up your polish every time you apply on your nails. If the damage is already done, don't worry, take a piece of cotton wool and wet it using nail polish remover then press it on the nail polish brush as you run through the bristles. You can choose to do this once in a month.
Soak your sponges for at least ten minutes before rubbing them with your hands as you target the areas that still have the products in them. Do not rub so vigorously as they are a bit gentle and may wither. Rinse them thoroughly with clean water and leave to dry overnight. Be sure that the sponges are completely dry before using them the next morning.
4. Razors and Nail Cutters
Repeated use of razors without cleaning can be harsh on your skin. It may cause skin irritation and bumps that are very stubborn to treat or may leave some spots even after treating. It is advisable that you clean your razor using surgical spirit after every shave. This also applies to nail cutters. Be sure to clean them each time you are done using to prevent the spread of germs after you cut yourself.
5. Face Towels
As weird as it may sound, a face towel is also part of the beauty tools that we use. Before you apply any makeup, you have to take a shower and most of us use face towels to clean ourselves. It is, therefore, a good idea to always keep it very clean since germs can transfer from it to our face. Soak your towel twice a week in soapy water and wash it thoroughly just to make sure that its hygiene is always in check.
6. Sterilize Your Tools
Things like tweezers could be a breeding hub for bacteria. Dip your tweezers in baking soda mix with vinegar just to make sure that you have all the stains out. If you notice any rust, it is better that you dispose of the tweezers immediately.
Our hair contains a lot of products which are very greasy. Brushing through the hair leaves the brush sticky and very hairy. Take out the hair from the brush using your hands then dip the brush in slightly hot water for the grease to melt off then in a separate bowl, take warm water with liquid soap get an old toothbrush to scrub the remaining dirt off. Rinse it then hand it to dry.
You may think that items like bracelets and earrings do not contain any germs or bacteria but they do. Some even accumulate dust while on your arm, ears or ankles. Get a cotton cloth with surgical spirit and wipe them thoroughly every time you wear them. You can also clean your entire jewelry box weekly just to make sure your stuff is in a clean place.
The Bottom Line
All of the products that we use need cleaning from time to time. Do not forget to check on the expiry date as you may find yourself using a single product for a long period of time without notice. Replace your tools from time to time.  It is recommended that you do not share your items especially things like eyeliner, lipsticks, and mascara. Do not also clean those using very harsh detergents or bleaches.