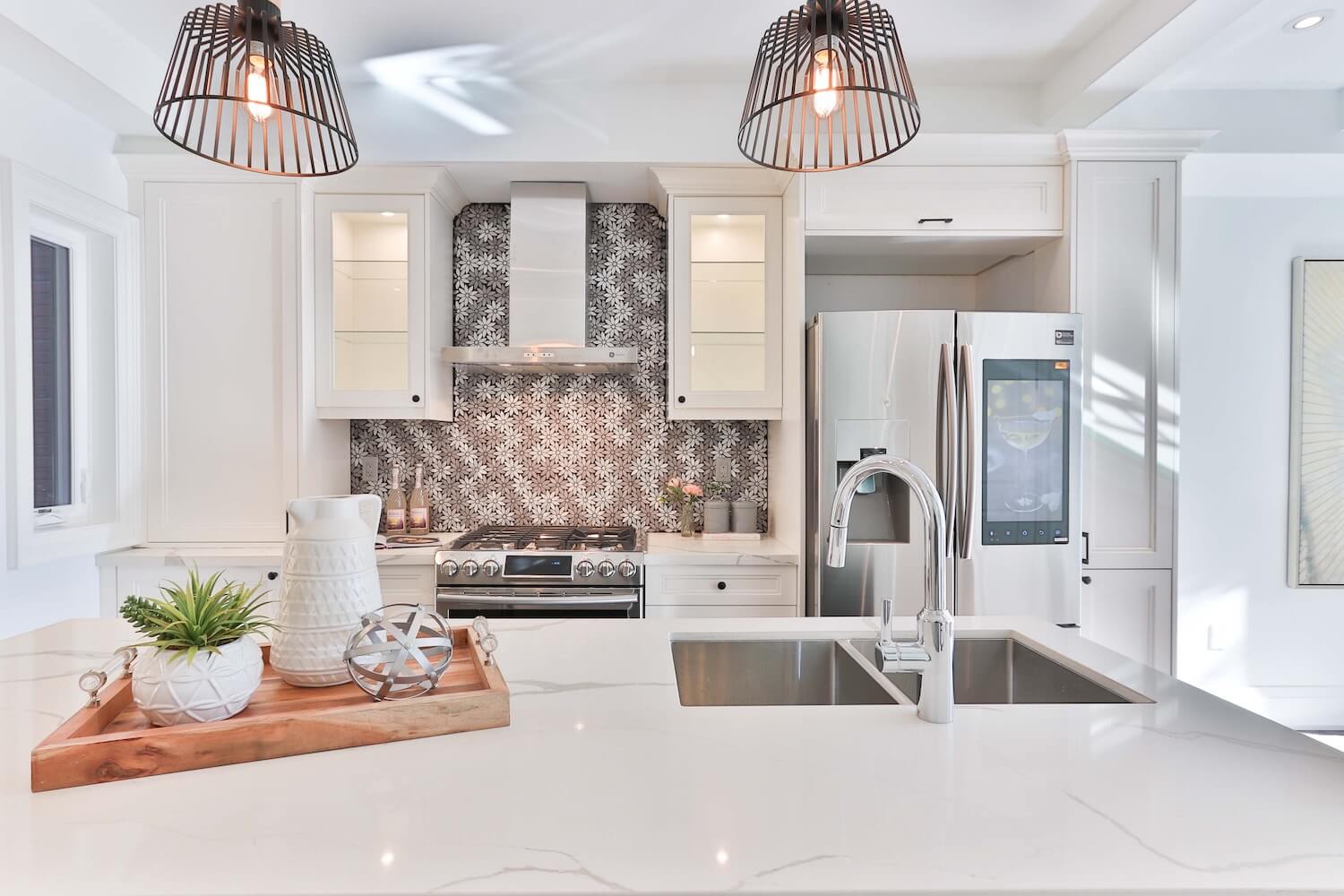 You may look at your cabinets and see that they are full. But take a closer second look. The problem might be that you do not know how to maximize that space that you have or even make use of it. There are better ways of storing your stuff without having to re-build your cabinets. You do not necessarily have to have a whole room as a pantry. Some of the ideas below will have you surprised at how much space you have been wasting.
1. Arrange According to Size and Shape
Have items that are of same size and shape in one level of the cabinets to make sure that they perfectly fit. Putting different shapes of jars in one level may end up consuming a lot of space as they will not perfectly interlock with each other.
2. Prioritize Your Items
To avoid re-arranging your cabinet every time you want to get something, ensure that you have the most used items on the lower part of your cabinet and in the front line. This will help in keeping your kitchen always looking organized.
3. Get Organizers
These are big boxes found at the store and can be used to store very many things that when kept out in the open on the cabinets will tend to make the place look clumsy and unkempt. However, their efficiency, try and arrange the stuff in there as well so that one box can accommodate a reasonable number of items.
4. Get Rid of Plastic Bags
Organizing foodstuff in plastic bags or even the grocery bags will look so untidy and is not even healthy for you. Try putting things like biscuits, beans, or dried peas in mason jars to make the place look attractive and well managed. The best kinds of jars are the clear ones so you can be able to see what you can add to your next grocery list.
5. Lighting
This may sound weird but having some small lights either underneath each cabinet or wherever you want to place them will be a good idea. This will make the place look more spacious. It is also a good way of avoiding any bugs that like crawling in dark places causing damage like cockroaches. The lights do not have to be too bright. Just have medium light bulbs.
6. Keep Your Shoeboxes
For the shoe cabinets, it is better that you keep your shoe boxes because they come in handy especially for the shoes that you rarely wear. Place those on the topmost shelf. Ensure that you clean that place from time to time to avoid accumulated dust.
7. Add Hooks
For items like pans, cake spatulas, and grill forks, you can choose to add hooks and hang them there instead of having them lying flat on the cabinets. The hooks should be placed in very strategic and safe places out of reach of children as the heavy pans may drop on them while they are playing around.
8. Seek for Extra Spaces
You can have your DIY shelves in other places that do not make the place seem too overcrowded like at the corners of your kitchen, behind or over the doors. Put a rubber stopper on the door to prevent bagging the door to the shelf.
9. Opt for Hooks
Tools in the garage should be stored with a lot of caution as some of them are sharp and heavy. The best way to store them is by hanging them on hooks according to their use, size and how frequently needed they are. This is will ensure enough space for your car and your children's bikes without having to knock any protruding cabinets over.
10. Have Inbuilt Cabinets
To avoid clustering of clothes in one tiny place. You could think of going for beds that have cabinets on or underneath them. Things like toys and inner garments can fit there perfectly. Avoid places where you have to place things out in the open if they are not being used just to make sure their room looks spacious and not clumsy.
11. Get Pull-down or Sliding Racks
The study room or 'library' can look very messy especially for the bookworms. The best idea here is to arrange your books in order on the shelf. However, you may choose to have sliding racks underneath your desk to store those small books or those with lesser volume.
12. Closet Rods
Closet rods ensures that you have a lot of hanging space and an organized closet. You may choose to add one more rod that can carry a few shirts, trousers or dresses either beneath your original rod or underneath it if space allows. Let the added rod have the same inches as the initial rod just to have uniformity.
13. Place the Medicine Cabinet in Your Room
This is meant for both safety and convenience. It is commonly kept in the bathroom with a mirror on the front. You can have a fast aid kit box and make a pullout rack on the side of it between the box and the wall. Do not place it very low where your kids would easily reach. You could even opt for a lockable micro-fridge in your room for medicine that has to be stored in there.
The Bottom Line
You wouldn't have an excuse for not having to use up your space well with all those tips. Try as much as possible to be creative. If you have any difficulties in making your own shelf, you could call a handyman or even call a cleaning company for help. Ensure that your cabinets are tightly fit to prevent incidences where the cabinet will fall off with everything in it. Get to know how many items you want in a cabinet to help you choose the right material to use when installing one.